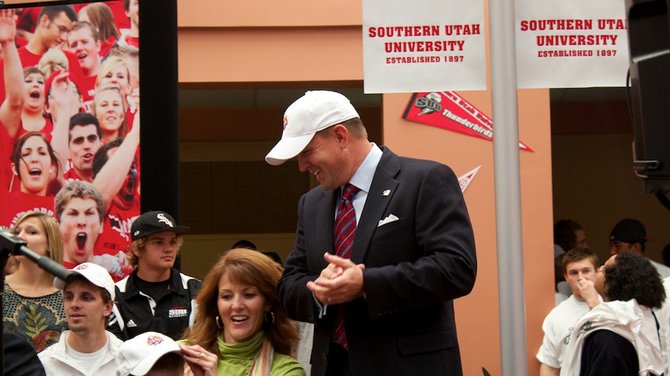 Photo Gallery
Benson announces Big Sky affiliation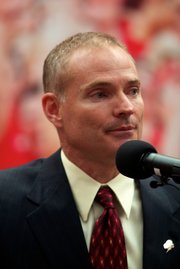 SUU President Michael T. Benson announced that the athletic program accepted an invitation to become a part of the Big Sky Conference in a press conference Monday afternoon.
SUU will enter into the Big Sky with North Dakota, who also announced its acceptance into the conference Monday.
The two will join current conference members Eastern Washington, Idaho State, Montana, Montana State, Northern Arizona, Northern Colorado, Portland State, Sacramento State and Weber State.
SUU Athletic Director Ken Beazer said academics along with athletics have brought SUU to "this big step."
"What we've been able to do academically over the years has helped us get over the hump in the Big Sky Conference to where they view us as a legitimate and viable complement to the Big Sky Conference academically," Beazer said.
All SUU sports, excluding baseball, men's golf and gymnastics, will be a part of the Big Sky Conference. Beazer said they are still trying to find homes for baseball and men's golf teams.
"I've already been in touch with three difference conferences about finding a home for baseball," he said. "We are looking at some options we have on the table right now. For the near future, baseball is going to be in The Summit League this year and next year as well."
Softball will become a sponsored sport as soon as the T-Birds officially enter.
The football team will have one more season in the Great West Conference before jumping to the Big Sky. Cal Poly and UC Davis have joined the Big Sky as associate members in football.
With all of the teams in the Big Sky, football schedules will be settled in division play, which have yet to be set in stone.
Senior football wide receiver Fesi Sitake said he was excited to be a part of the movement into a greater conference and thankful for the help that has been given up to this point.
"On behalf of the student-athletes, I want to thank everyone who has steared us in the right direction, whether it's on the field, on the court, in the classroom or out in the community," Sitake said. "We are very grateful for everything you have done for us, and we are so excited to have this big move here today."
Benson said fundraising is going to increase in the upcoming years so the university can sponsor all the sports that the conference sponsors.
"We will have the smallest budget of any Big Sky school, so we do need some help," he said. "This is when we get even more invested in our fundraising in trying to develop a program that we will be proud of."
Beazer said the move was "the worst-kept secret" in Cedar City history and the pinnacle of his career.
"This is the beginning of many great things left to come that we're going to accomplish with the athletes we currently have, coaching staff we have and administration we have in place." Beazer said. "The best is yet to come, and I guarantee that there are going to be many more great moments in Southern Utah University athletics history."