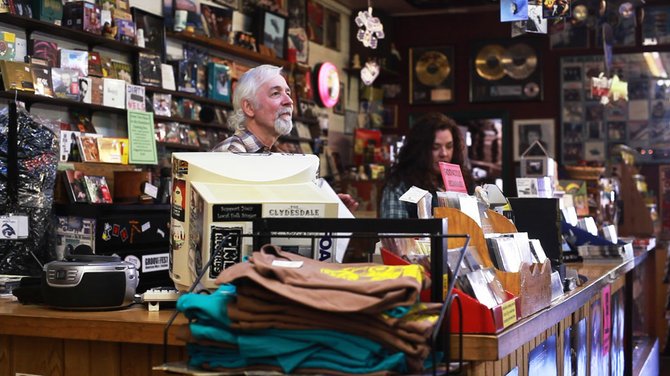 Every year since 2008, record stores across the nation have been celebrating Record Store Day, a celebration of independent record shops and their role in society, and Cedar City's Groovacious has been joining in the excitement from the start.
Record Store Day, now in its fourth year, focuses on record stores and the role they play in music and society. Since its 2008 debut, Record Store Day has grown from being celebrated at a few hundred record shops across the nation to something celebrated at nearly 1,000 stores across the globe.
Record Store Day is celebrated the third Saturday of April each year, and only independent stores meeting certain criteria are eligible to participate — "real, live, physical, indie record stores — not online retailers or corporate behemoths," according to the Record Store Day website.
Tim Cretsinger, owner of Cedar City-based record store Groovacious, said Record Store Day hearkens back to times when people were excited to be in record stores and find new music. That, he said, has changed over time, owing to a combination of factors, including the rise of filesharing and the prevalence of impersonal chain record shops.
Groovacious participated in the first Record Store Day in 2008, and this one was the store's busiest, Cretsinger said.
Reader poll
Hanging out in my favorite record store, taking in the sights and sounds 50%
Picking up some albums with a nice discount 0%
Grabbing new, exclusive releases by my favorite artists 0%
Stumbling across something unusual or rare at the shop 25%
Talking about music with people at the record store 25%
4 total votes.
"When you get to about the fourth one, people really start getting the idea," Cretsinger said. "I think that a lot of people save up for this day so they can get a big discount on their music."
Part of the popularity may be the 20 percent discount Groovacious offered for the day, but Record Store Day-exclusive releases also interested many customers, Cretsinger said. For some time of the day, there were long lines of customers at Groovacious waiting to get their chance to grab new releases, reissued records and exclusive singles.
When Record Store Day started, only a handful of exclusive releases made their way to shops for the celebration. This year, hundreds of releases were released.
The Record Store Day celebrations give potential customers an opportunity to experience record shops as they existed before revenue declines claimed shops across the nation, Cretsinger said.
"When you get into the store, it's so much fun to look through the bins and look through the stuff, and people need to be reminded of that feeling, or experience it for the first time, which is what Record Store Day does," he said. "People come in and go, 'This was really a cool thing, and look, it's still here.'"
Record stores have seen notable declines since the rise of illegal filesharing — digital music downloading and sharing — has cut into music industry revenue, but cookie-cutter record shops played a role in that decline, Cretsinger said.
"The chain stores and mall-type record stores and music shops that have existed in the last 20 years or more have actually given the real record stores a bad name by employing — I always just say they employ McDonalds employees — manning the counter at the record store," Cretsinger said. "They would leave the store disappointed in their experience and consequently didn't keep going to the record stores that existed, because there were so many of those that were out there that just gave real stores a bad name."
Marc Forrester, a sophomore music major from Cedar City, said he finds visiting a physical record store and purchasing albums is more rewarding than simply downloading music.
"Aside from having a physical copy of it, I just kind of like the whole interaction," Forrester said. "You get to come and look at the music, especially the vinyl — the records. I love records, (there's) just something about them. Something special."
Record stores provide a chance for music listeners to engage music as a physical object rather than a digital file, Cretsinger said.
"I feel, and I see it every day, people that really really love music want to really have a thing that they can be in control of and hold it in their hands and look at, as opposed to just having a file you can click on," Cretsinger said. "If you can hold a record and look at the notes and put the record on, flip it over — it's the hands-on thing that really makes it fun."
Forrester said he hopes the impact of Record Store Day will extend beyond stores filling for a day and remaining relatively empty the remainder of the year.
"A lot more people, I think, are finding out about their local record stores as cool places you can go and by music from, aside from just being on their way out," he said. "They're not. They've got lots of things aside from just records."
Matt Curtis, a senior communication major from Orangeville, said he hopes music fans don't forget about record stores.
"People stay at home now, they download their music — It's not the same as it used to be," he said. "I'd plea with people not to forget (record stores), just to buy a record. Don't spend $10 on iTunes; come down here and buy anything — a dollar record, a new release, anything. Just keep it going."