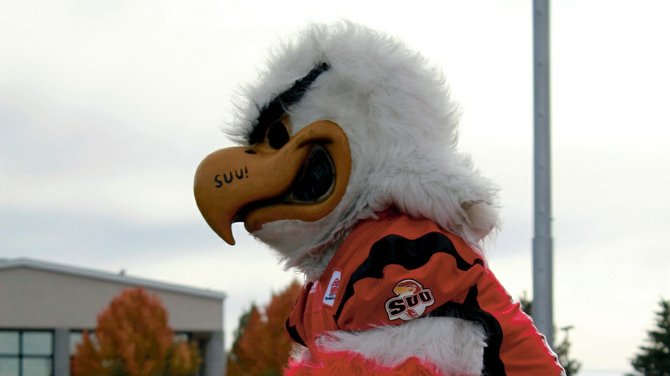 Thursday, December 8, 2011
There were a lot of memories made in 2011 regarding T-Bird sports. Everything from an alumnus scoring a touchdown to a Canadian crushing the competition around him — all the way to a pair of unforgettable upsets.
I decided it'd be the perfect time to recap my five favorite moments of the 2011 year in regards to T-Bird athletics.
There were also a bunch of great moments that didn't make the list, which is saddening. There's Jeff Evans winning the Utah Amateur Golf Title, Bo Cuthbertson's insanely high batting average and the awards associated with that and even one of the craziest softball games I've ever seen.
However, these were the moments that stood out to me as they each represented SUU athletics in one way or another:
5. Nick Miller finds the endzone
Special teams guru and receiver Nick Miller was fun to watch in the year I saw him with the T-Birds. I've followed his path into professional ball ever since that year and enjoyed watching his success.
He fought his way to make the Raiders squad as an undrafted free agent in 2009, only to land on the injured reserve that season. Then he made his debut last season, including a nice 32-yard catch that landed on KSL's "Utah in the NFL" highlight reel.
However, Miller's dream run in Oakland was severed this season when he was released by the Raiders.
That's when the uncertainty begin.
However, the day before Thanksgiving, Miller got a phone call, a plane ride to St. Louis and a contract with the Rams and a third chance at his career — and he made the most out of it.
Between Miller's release and Thanksgiving, he actually had been with the Rams, but a freak injury to Sam Bradford originally cost Miller's spot with the Rams.
On Nov. 27, Miller fielded a punt, got a few blocks, found a seam and sprinted 88 yards for his first career touchdown.
It was a proud moment for Miller, who was finally rewarded for his effort, but also for us at SUU, who wanted to see him succeed.
And it's been a long time since a T-Bird has scored an NFL touchdown, that's if it has ever happened. Miller represented SUU well with that punt return.
4. Challis Pascucci and Caitlyn Sears reach 1,000 points
Technically half of this shouldn't count, but since the other half does, I can put this on my 2011 list.
Forward Challis Pascucci hit the 1,000-point marker last December, but guard Caitlyn Sears reached it in early January.
The duo became the first two to reach 1,000 points in the same season since 1987, before either of the two were born.
It wasn't insignificant either; the T-Bird women's basketball team went back to the Summit League tournament as a No. 5 seed with a winning record.
Nothing beats a good team with a little history.
3. SUU shocks UNLV
I carpooled down to Las Vegas with my great editor Brooke Cersosimo and some of her gymnastics entourage and I'll never forget the thought I had as we crossed into Nevada. My mind told me, "Man, this could be ugly. We'll get smoked if they play like they did against Hawaii."
Thank goodness I'm an idiot.
Not only did the SUU football team defeat UNLV, it ruined all the hopes and dreams Rebel fans had of a possible decent season in Las Vegas. The Rebel coach even looked as if he was going to cry at the postgame press conference.
Meanwhile, the only fans left at the end of the game by the end were the overzealous T-Bird crowd, people with nothing else to do on a Saturday night and a couple of intoxicated Rebel fans that used the fourth quarter as a chance to boo their favorite team.
I guess it wasn't an upset since I originally thought it was a winnable game and predictions were made prior to kickoff that SUU could win. Regardless, it was a sure memorable moment for SUU as it asserted itself as a football power.
There were other great wins, like the T-Birds going 3-0 against future Big Sky Conference teams (including Weber State) but none of those had quite the impact as the 41-16 beatdown of UNLV.
2. Men take Cross Country title/Cam Levins domination
We'll start with the SUU men's cross country team, which took care of the Summit League title in its final opportunity. The team purely dominated.
Then there's Cam Levins.
Levins was already a force heading into 2011, so it wasn't a surprise when he furthered his illustrious career this year with another Canadian Cross Country title, a 4th place finish at the NCAA Cross Country National Championships, a 57th place finish in the World Cross Country Championships — oh and not to mention the countless school cross country and track records he annihilated.
I'd go into Levins' statistics, records and everything along those lines from 2011, but I know if I did, my editor would kill me for exceeding my word limit even more than I probably already did — and that's scary to deal with.
But with all seriousness, Levins made sure nobody forgot SUU as a program in cross country and track. The men calling the race at the NCAA Cross Country Championships commended Levins' ability to stay in the front pack and challenge the eventual race winner for more than half of the race.
Levins also may go down as the greatest athlete in SUU history, and he's definitely earned that.
1. SUU gymnastics defeats UCLA
This one was truly one of the greatest David vs. Goliath moments I've ever seen, and it was surely one those in attendance that night will never forget.
UCLA was coming off another National Championship — and nearly came down with another this past season — but Jan. 14 was all about SUU.
Flocks of T-Birds and T-Bird aficionados swarmed the Centrum Arena, filling it to near sold-out capacity. That place was rocking all night long.
I'll never forget standing near the uneven bars with my camera in the middle of the second rotation with former gymnast Jenna Vogt as we watched "the wave" circle through the arena seats. We looked at each other amazed because there's never been that many students in the Centrum at one time.
It was a surreal moment to be an SUU student, much less a photographer with no memory of a crowd that big during an event (which didn't involve a surprise hoops visit from UNLV).
But as the meet continued, I slowly realized not only was SUU neck-and-neck near the end, I knew if they continued to hit their routines like they did, they'd win — and they did.
There's a YouTube video posted by SUU Athletics showing fans chanting "S-U-U!" in every little corner of the arena. I know my job as a journalist is to not root for either side, but that's a moment I won't forget as a student. I had goosebumps — that's not a lie either (I guess it was a good thing I wasn't a reporter for that).
A moment like that tops them all because it had everything from school spirit to a dose of a great competition — plus, who doesn't love an upset?
So, those are my top five moments of the 2011 year in T-Bird sports, Here's to another year of SUU sports in 2012.