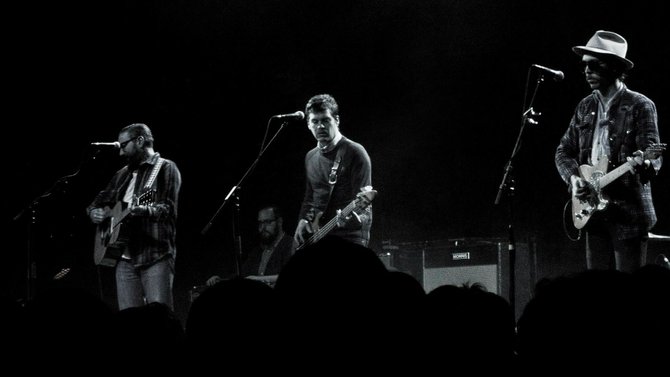 Wednesday, December 21, 2011
A couple of friends of mine and I recently sat down to have a powwow and discuss a major American issue — which is, what were the eight best albums we could think from 2011.
I suggested some, they suggested others, we fought, we cried, we laughed and eventually we whittled down all of our favorites into one giant list and gave it to you, the reader.
There were some of my favorite CDs that missed the cut because of this process and there were some of my friends' favorites that missed the cut, too. In addition we decided to place them in random order instead of ranking them.
Foo Fighters - Wasting Light
I enjoyed watching Carter headband to "White Limo." That's why we had to vote this album into this list.
But, more importantly, the album was a mix of everything from the previous six albums from the Foo Fighters. It wasn't too heavy, nor was it light. It was a mix both and a jolt of energy here and there.
I loved "Burning Bridges," but "Walk" and "Rope" were pretty popular too.
"These Days' was definitely one of the better rock songs this year.
-Steven
City and Colour - Little Hell
We learned City and Colour became Dallas Green's lone musical priority this year when it was announced he left Alexisonfire last December and boy, with a little spare time, Dallas truly progressed his once-upon-a-time solo project into a pretty damn good band.
Singles like "Fragile Birds" and "Weightless" were light-hearted rockers with thicker meanings than melodies, while "The Grand Optimist," "Northern Wind" and "Oh Sister" gave Green's fans the simple acoustic songs fans are accustomed to.
Little Hell was also the most successful release of any of his projects, debuting at No. 28 on the American Billboard Chart and No. 1 in his native Canada. Green also just completed a success first full-time American tour with City and Colour, which included a stop in Salt Lake City.
The album was Green's third under City and Colour and was truly one of the best in 2011.
-Carter
Bright Eyes - The People's Key
(Gosh darn) I loved this album. I could listen to it from start to finish daily, but I just don't have the time.
It was truly great.
"Shell Games" was a face-melter of a piano rock song and "Jejune Stars" is one of those songs you'd sing on a road trip.
-Justin
Blink-182 - Neighborhoods
This was one of the most anticipated albums in recent alternative history as fans had waited a good eight years and a lengthy hiatus between Blink-182 and the pop-punkers didn't disappoint in 2011.
Songs like "Natives" and "Heart's All Gone" brought memories of old Blink-182, while "Ghosts on the Dancefloor" and "Up All Night" were among a mix of things we've seen before and what we may see down the road.
Some were disappointed frontman Tom Delonge didn't sound the same, but we didn't feel it made a difference in the quality of the best pop-punk album of the year.
-Carter
Bayside - Killing Time
This was probably the only CD we double checked to make sure we didn't leave it off the list. Seriously, we did. It was one of the most underrated albums of the year, but it was certainly deserving of the list.
"Sick, Sick, Sick" was seemingly all over the radio during summer and the rest of the album probably could've gotten requests on the airwaves, too.
It's nice to hear Bayside will be on the 2012 Warped Tour, also.
-Shaun
Lights - Siberia
Lights had one of my favorite debut albums a couple years back and she turned heads at the 2009 Warped Tour for many people. I can't recall anyone not being able to stop singing "February Air" after listening to it once or twice.
So when the long-awaited sophomore album Siberia came out, I wanted to know how she'd progress — that answer was "very well."
It's a good mix of her traditional alternative electro-pop, with a dose of dubstep and a hint of slow-emotional songs.
"Siberia," the title track and current single is pretty solid if you ask me, while I loved her collaboration with rapper Shad in "Everybody Breaks a Glass" and "Flux and Flow."
Siberia is truly another one of those pleasant surprises in 2011.
-Carter
Thrice - Major/Minor
We all agreed this album was the best rock album in 2011. Enough said.
-Shaun
Adele - 21
What can we say about this album that hasn't been said? Holy (cannoli) it was everywhere! If not straight up Adele on the radio, it was probably another mediocre band trying to cover Adele.
Adele was a sudden invasion into the U.S. airwaves and will likely win Album of the Year at the next Grammy Awards.
I mean it feels like 21 has been the top-selling album on iTunes throughout the year and that's because it's already sold 13 million copies worldwide.
"Rolling in the Deep" and "Someone Like You" was seriously played on every station, especially Power 91. And it's hard not to like her… because she's just so (dang) good.
-Steven
So that's our list for 2011.
Look for me to do my first album review of 2012 with the release of Anthony Green's newest solo album, which comes out on Jan. 17 over at Alternative Attack on suunews.com.
Have a great New Year's!