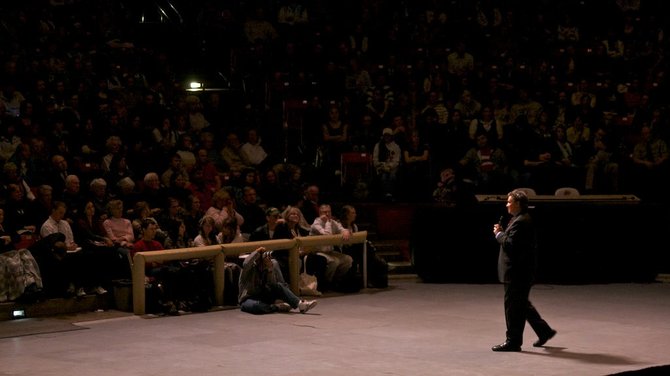 Wednesday, February 2, 2011
Photo Gallery
Author Mortenson delivers convocation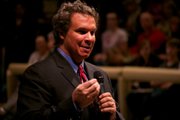 Greg Mortenson, author of Three Cups of Tea, spoke at Tuesday's convocation "Promoting Peace Through Education" about his work building schools in rural Afghanistan and Pakistan.
Mortenson's book Three Cups of Tea is about how he became co-founder and executive director of the Central Asia Institute. Three Cups of Tea was required reading for SUU freshmen this year to introduce them to another culture and teach them humanitarianism and perseverance.
Mortenson said he chose SUU as one of the 10 percent of speaking engagements that he accepts because, "it'd a rural school … and you have a really great education program here, and also there is lot of community service here."
Mortenson's message shadowed those of previous convocation speakers, Director of Orientation Jeb Branin said.
"The people who are leading the charge of the world to make it a better place are giving to SUU a very consistent message: the importance of education and the role of women in advancing and preserving society," Branin said.
Mortenson spoke simply, but it was those listening said that he put his whole heart into his work.
"He seems like a regular guy," said Chelsea Kimpton, a freshman biology major from Las Vegas. "Some of these famous people have a larger-than-life personality, but he just seems like a regular guy telling his story."
In his speech, Mortenson told the story of Abdul, a young orphan slave he met working in a car repair shop in Pakistan. Mortenson went back to help Abdul, but couldn't find him. Mortenson now keeps a photo of Abdul on his desk to remind himself of what he is working for.
"There is absolutely no reason why any child today should be a slave," he said. "There is no reason why every single child on this planet shouldn't have their right to education."
There are currently 120 million illiterate people in the world, 78 million of them being girls. That could be changed by an investment of 6 billion dollars a year for 10 years by the global community, Mortenson said.
More than 2,000 schools, most exclusively for girls, have been destroyed or shut down in Afghanistan in the last four years.
"Why is a group of big bad men armed with kalashnikovs and weapons so terrified of a little girl going to school?" Mortenson said.
Mortenson said it was the power of the written word, as said in the Hadith: "The ink of a scholar is greater than the blood of a martyr."
Mortenson said he finds it imperative that women are educated because it empowers them and gives the gift of literacy to them and their future generations.
"If you educate a boy, you educate a individual," he said. "If you educate a women, you educate a community."
Mortenson said that improving women's literacy rates has been shown to improve the quality of life, reduces the infant mortality rate and controls population explosions.
"We can drop bombs, we can build roads, we can put in electricity, we can put in computers, but if girls are not educated the society will never ever change," he said.
In 2000, 800,000 students — mostly boys — attended school in Afghanistan. In 2010, there were 8.5 million students, and 2.5 million of those students were girls.
Mortenson's attitude appears ever positive when facing some of the world's biggest problems.
"There is nothing we cannot overcome," Mortenson said.
Mortenson asked the audience how many of them had spent more than 10 hours talking with their grandparents, and a few hands were raised. Mortenson said about five percent of audiences he spoke to in America answered yes, but in Pakistan, almost all the students would have said yes.
"I think it is one of the greatest tragedies of our society that we have lost that tradition were we can learn from our elders," he said. "We have to make that link to our forefathers if we want to go into the future with confidence."
He also noted the importance of not only with having relationships with our elders but with people in general instead of computers or iPods.
"When I see kids in Afghanistan, they have a better since of intuition, conscience," Mortenson said. "I think the reason is because they are not plugged in all the time … we need to unplug."
Graduate students' desires to serve their community is growing, Mortenson said.
"(Service) helps us think of ourselves as a collective community, we are only as strong as the weakest link in our community," he said.
Mortenson cautioned that service is not an escape from one's personal problems.
"If you have problems, don't go out into the world to solve other people's problems," Mortenson said. "That means emotionally, physically, mentally, spiritually, academically, you need to make yourself a really strong person if you want to go out and change your community or the world."
Mortenson said he accepts failure as a part of everyone's lives in some way or another.
"We all make mistakes, and we all fail," Mortenson said.
He said never to despair with failure.
"'When it is dark enough, you can see the stars out,' says a Persian proverb," Mortenson said.
It wasn't until after hundreds of hand-typed letters requesting donations for Mortenson's first school received no reply that he spoke to an elementary school, and Pennies for Peace began, a program which now 5,400 schools participate in.
It was children reaching out to children halfway across the world that really made building the schools possible, Mortenson said.
Central Asia Institute receives no federal funding, but Mortenson helps the military understand the culture of Afghanistan. For example, Three Cups of Tea is required for senior officers going to Afghanistan.
US Military General David Petraeus teaches his troops three points from Three Cups of Tea: "Listen more, respect, and build relationships," Mortenson said.
Petraeus also called ended Operation Omid after meeting with elders of the 34 provinces in Afghanistan with Mortenson's help.
"People need to listen to what the elders are saying," he said. "'Please do not bomb or kill civilians, ... We want to be involved in the decision making process ... and we really need education, we don't need fire power as much as we need brain power.'"
Mortenson learned from his father's work in Tanzania that if someone really wanted to help another person we have to empower them, and we can empower through education.
Mortenson began his speech by thanking people and organizations at SUU and in Cedar City for all their involvement in his coming to speak.
"I am really honored to be here on behalf of all the students," Mortenson said.
He then had all students stand invited the audience to applaud them for "all they are doing to make this world a better place."