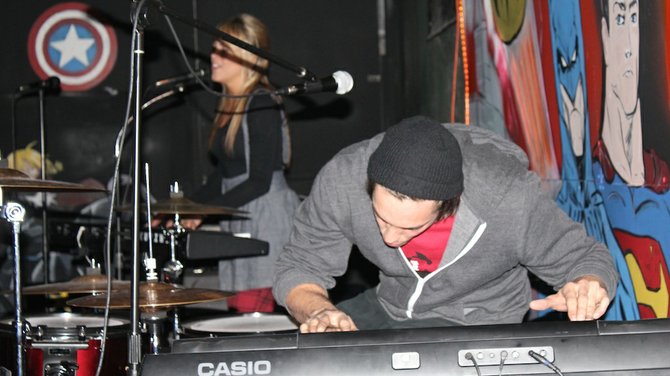 Sunday, February 13, 2011
Photo Gallery
Indie bands play to a growing audience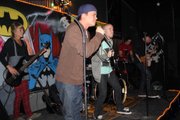 Three bands, 5ive.Sec.Hero, The Neighbors and The Vibrant Sound, play to a growing audience at Gotham.
Cedar City based 5ive.Sec.Hero as well as two bands from Provo entertained a steadily growing crowd Saturday night at Gotham.
Gotham owner Lance VanSant said he felt privileged to have such talented bands playing.
"I feel like a small venue showing big bands," he said.
VanSant said that even though the bands were playing through the club's karaoke equipment, they had a talented sound.
"We're going to try and do a band every other week," he said.
VanSant said there was a great turnout and that most advertising had been through patron text-messaging, Facebook and Power 91.
He said Power 91 President Isaac Madson had put together the event.
McKay Stevens, Vibrant Sound singer, guitarist and MC, said Madson had played their band on Power 91.
Stevens said that while the band was on Facebook booking tours in St. George and Las Vegas, they noticed Cedar City.
"We were like, 'hey, that's a college town,'" he said. "Then, Madson said he got us a show at Gotham."
Michael Wager, a sophomore music major from Sandy, said he recently joined 5ive.Sec.Hero as their cellist.
"We usually have six members," Wager said. "But our drummer is at work and our lead guitarist is sick."
Despite their missing band members, the band played several songs after keyboard player Mario Castro, a senior music major from Cedar City, warmed up the crowd by singing songs about Facebook.
Katelin Ruzzamenti, a junior theatre and dance major from Riverside, Calif., said she came to the show because her boyfriend knew the opening band.
She said she enjoyed the music, especially sibling duet The Neighbors.
I love (Rachel Kaiser's) voice," she said. "And (Adam) rocks at the drums."