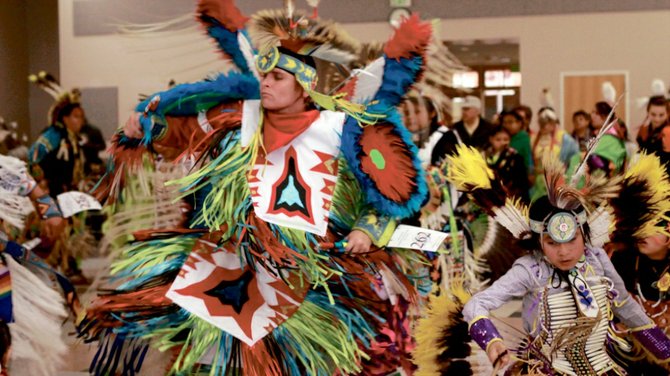 Sunday, February 13, 2011
Photo Gallery
SUU Powwow in photos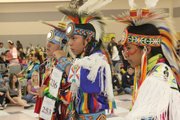 Native Americans joined in spiritual singing, dancing and drumming at the Native American Student Association's 34th Powwow inside the Sharwan Smith Center Ballroom Friday night and Saturday.
The powwow was a two-day $14,000 event hosted by SUU's NASA group.
People came from as far as Oklahoma and California to attend SUU's powwow. There were members of the Navajo nation, Paiute tribe and Mandan tribe.
Not as many SUU students came to the event as originally hoped, said Multicultural Center Councilor and Native American Student Association Advisor Tina Calamity.
The powwow is a special social and spiritual event for Native Americans, "There is something about Natives and Drums, it makes us alive and rejuvenates us," said Quinn Parrish, a freshman information systems major from Kayenta, Ariz.
Jacob Crane, a drummer and singer from Calgary, Alberta, Canada, said powwows are an important cultural event.
"Powwows help the younger generation be involved in their culture," he said. "If you're not involved in your culture it's like a piece of you is missing."
Dancers in elaborate and colorful outfits competed in different categories accompanied by live drums and singers.
The dances are more than just dancing and wearing bead-work, but the dancer puts their heart and soul into every dance step, said Grass-Dancer Zak Thunderchild Palmer.
"The drums face the sky, and are a link to the ancestors and we sing to the ancestors and for the people here," Crane said.
Palmer said he dances to help others.
"Its more a prayer form than an art form," Palmer said. "When I dance I don't dance for myself, I dance for my family, I dance for my friends, and I dance for those less fortunate" Palmer said.
Pfawann Eskee, president of the Native American Student Association said that dancers who were sick would sweat out their sickness when they danced.
Women in the Jingle Dance had cone bells on their dresses which signify beauty, happiness and healing, Eskee said.
The jingle dancer's bells also signify water and the women's fancy shawl dance is meant to mimick a butterfly's movements, Calamity said.
Many of the outfits that people wear have been passed down as heirlooms or made by the dancer's family, Calamity said.
Some of the children's outfits had Batman symbols, hearts, Hello Kitty, neon colors and sparkles on their outfits, whereas the more of the older dancer's had more traditional colors and designs.
Powwow trends evolve and change with time, "Its a living, breathing culture," Calamity said.
Dances like the Grass Dance and Traditional Dance are older forms of native dancing, whereas the Fancy Dance and Fancy Shawl Dance are newer forms dancing, according to suu.edu/orgs/nasa.
Most songs were more traditional and sang in the native language of the singer, but some, such as a song about Mickey Mouse, were contemporary.
A Cake Walk dance was held, a contemporary circle dance were everyone carried a number and the winning number received a cake.
The Native American Student Association has been planning and fundraising all year and ran the concessions and admissions all weekend at the powwow.