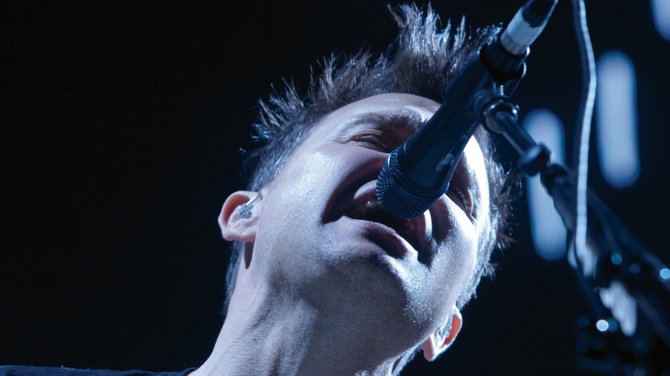 It took eight years, but finally the longest wait in pop-punk history is over. Blink-182 is back!
Sure the San Diego trio actually reunited two years ago, but the band's return is now official with the release of Neighborhoods, which dropped in stores and online everywhere Tuesday.
It's been nearly three weeks since I got the first full listen of the album and that's given me time to reflect on my opinion of something I've waited at least five years to hear.
In the eight years since Blink-182's self-titled album, alternative rock music went emo (somewhat because of Blink), then screamo, then sketchy people diced screamo with rap and techno, then indie went mainstream — and alternative music really changed. My musical tastes have changed in that time too.
But, somehow through all of that change, Neighborhoods went right to No. 1 on iTunes after its release and it's expected to hit one million sales worldwide quickly.
Bassist Mark Hoppus has often said in interviews the new CD would be the continuation of where the band left off when it went into hiatus in 2005 and he wasn't lying.
The album continues to shed light on the deep and sometimes dark side of the notorious prankster rockers — although their crude and dirty jokes haven't been chucked out of their live shows just yet.
A strong hint of co-frontman Tom Delonge's Angels and Airwaves project and Hoppus's +44 is also strongly noticeable in the 14-track album.
In fact, Hoppus said in an August interview that the
name of the CD came from his and Delonge's different songwriting paths in the past eight years, as well as from drummer Travis Baker's hip-hop ventures. The name, he said, dealt with how different neighborhoods made up a city — the songwriter's different ideas came across as different neighborhoods and the album name was created.
Cool story, right?
Neighborhoods is a totally different album from anything Blink-182 has done in its 19-year existence, but yet the same — if that makes any sense.
Hoppus hasn't changed one bit, but Delonge has noticeably altered his vocal style in the past few years. It creates a different sound reflected in the album.
Yet Neighborhoods isn't actually too far off from Blink-182's 2003 self-titled album — it is, however, a little harder and more creative than in the past.
There are hard riffs throughout, especially in "Heart's All Gone" and "Up All Night". There are also keyboards and transcendent space-like additions to parts like "Ghosts on the Dance Floor," "Love is Dangerous" and "Wishing Well," among various others.
It's a sound Blink-182 apparently was heading into a decade ago, as both sounds popped up in Angels and Airwaves and +44.
There are other songs like "Natives" and "Even If She Falls" that remind me of prior Blink-182 albums.
In the end, Neighborhoods is the metaphoric product of taking prior Blink-182, Angels and Airwaves and +44 albums and blending it into one potent pop-punk concoction.
Although I've heard many complaints about Delonge's vocals and songwriting impact on the album, I don't believe it's necessarily destroying the quality of the CD — and it's not like Tom Delonge sings like Freddie Mercury anyway.
Lifelong Blink-182 fans have either fallen head-over-heels over the new album or will grow to love it soon. It might even attract the 13-somethings that were born around the same time Blink-182 got ridiculously popular.
However, it probably won't persuade the band's skeptics to jump ship, grab a couple of malt liquors and party with Delonge's alter ego Boomer.
I'll give Neighborhoods an 83 out of 100 — and it certainly isn't as good as Thrice's newest release Major/Minor for best rock album of September — but Neighborhoods definitely reinstates Blink-182 as the king of pop-punk.