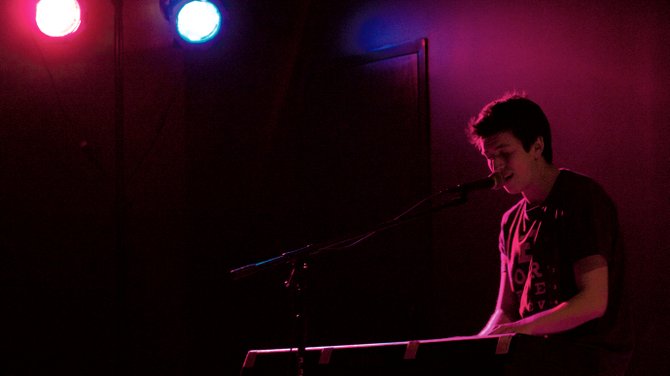 Audio clips
Jesse Wride at SUU
Jesse Wride, frontman for the SUU campus-popular Utah-centered band j.wride, stopped by Cedar City Friday to aid the SUU Acoustic Club and promote the band's upcoming extended play (EP) Love on the Run.
Wride performed alone with his piano and featured songs off the band's upcoming EP, which he said he plans to release at some point next month.
The performance was with the Acoustic Club, which provided opening acts before Wride hit the stage.
It was a successful show for the club, its officials said the dim lighting of the Sterling R. Church Auditorium was the perfect setting for a man ready to release music based on the dark moments of his life.
Although Wride played a mix of songs, he said it was a perfect time to dish out a few off the EP he plans to release next month.
He said these songs are totally different than other songs he has written in the past, as they are more "autobiographical" to his life and past experiences.
"It's way more personal than stuff I've done in the past," Wride said. "A lot of these songs are older songs that are kind of revamped and I finally wanted to do them."
Before playing some of the songs on the upcoming Love on the Run, Wride explained some of the stories behind the songs he would play. Most of his shared experiences involved former love interests and the story of how he began playing the piano at age 17.
Wride said he was excited to release new tunes by the end of the year.
"I finally wanted to do a more personal album because I think when we play these live, a lot of people tend to relate to them," he said. "It's probably my favorite thing I've ever done musically because it does come from such a personal level."
He said he was looking for a new challenge in his music career, even though many of the songs he would be releasing are his older work.
"I guess I'm at a point musically where that was the next step for me — to write more for myself instead of try to fit in and write what I think people would like to hear," he said. "These songs are old, it's just a matter of — I chose to put these on (the EP). I think it was just time to do something like this."
The new shift in music comes at a great time for the band, which is in a crossroads in life.
The band's drummer, Austin Anderson, recently got engaged and all three are at or past the college graduate age — a dangerous time for musicians and their commitment to writing songs. Wride's band, j.wride, is a three-piece band comprised of piano, bass and drum. It provides an upbeat pop sound mixed with a soothing touch of jazz.
Many fans say it reminds them of Ben Folds, but Wride says he just doesn't see it.
But one thing is for sure, expect more j.wride shows in the future.
"We love it here," he said. "As long as people keep coming out, we're going to keep coming. I'll bring the full band next time and we'll rock out some of these new songs."
Wride said he doesn't have an exact date for when the EP will be available because he said he's notorious for releasing songs after original dates he sets.
I'm saying November, but it could be Nov. 1, it could be Nov. 30 — maybe over Thanksgiving, you don't know, it's going to be a surprise," he said.
Carter Williams is an associate news editor for the University Journal. He can be reached at cwilliams@suunews.com.