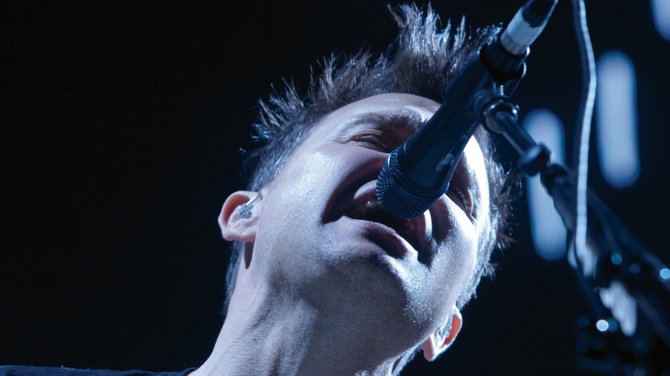 Originally published September 5, 2011 at 9:33 p.m., updated September 5, 2011 at 9:33 p.m.
Photo Gallery
Blink-182 and My Chemical Romance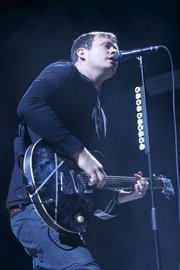 For my new friend Emma and me, being devoted fangirls to Blink-182 means it's an obvious yes as to whether we're willing to drive 250 miles for a concert.
We weren't disappointed. Saturday's show was the living, breathing and rocking proof we needed that Blink really is back to stay. They are touring with My Chemical Romance for this summer's Honda Civic tour, and were joined in Salt Lake City by Rancid.
I just want to add that in planning this trip and an article to follow it up, I searched via Facebook, Twitter and Power 91 radio for more T-Birds headed to the show. Only Emma answered. What's going on SUU? Were you too busy with classes, jobs or other extracurricular responsibilities to answer my online petitions? Geez. What's up with college kids and their priorities these days?
For the past 19 years, despite a four year hiatus, the unruly trio Blink-182 has held an undisputed position as one of the great groups in pop punk. For me personally, they have ruled my airwaves since junior high.
Emma Tagliaferri, a freshman undeclared major from Las Vegas, has been Blink girl since her teen years as well.
"They are such a classic band and I could never get bored of listening to them," she said. "They always have fun with it, and most people can relate to their lyrics."
I first saw Blink in 2009, shortly after the band got back together, and loved every minute of it. However, it seemed during the performance that there was still some tension between band members, and I left unconvinced that the trio was really back. I waited with an increasing desperation as days then weeks then months passed without a new album being released, the dangling carrot that kept my hope alive.
That hope was rekindled this summer when I learned that Blink-182 was returning to Utah, followed shortly by the release of "Up All Night," the band's first single since 2003.
Blink's performance Saturday as the headliners of the Honda Civic Tour was energetic, natural and entertaining. All of the spark and chemistry that I felt was missing in the 2009 performance was there.
Band members Tom Delonge and Mark Hoppus bantered and kept up their famously inappropriate humor throughout the show. Drummer Travis Barker gave a silent but face melting performance on the drums, as per usual, and his mohawked son Landon jammed along at his side on guitar.
Blink-182 played all the old favorites like "All The Small Things" (which they dedicated to Justin Bieber) and "First Date," blending in several songs from the new Neighborhoods album, which is slated to release Sept. 27.
This was Emma's first Blink-182 concert. She said she loved being close to the band, which was worth the pain.
"I loved being only 10 feet away from the stage," she said. "The bruises all over my feet from the mosh pit and spilt beer on my shoes were worth it "
She said she's willing to sacrifice to see Blink-182 in her home town Oct. 7.
"After this concert I am willing to not eat for a while to be able to have money to go to that show as well," she said.
While I watched most of the show from the lawn, being granted a press pass to photograph the first three songs of Blink's set, along with the first two songs by Rancid and My Chemical Romance, was a fulfillment of both my professional and fangirly dreams.
Being in that four-foot space in between the band and the screaming crowd was a super charged experience. I was proud I was able to keep my cool while only mere feet separated me from the bands, unlike the high school photographer who I was sure was going to need to change her Daisy Dukes after the MCR set. I got some great shots, if I do say so myself.
Speaking of My Chemical Romance, I had intended to mention their performance as well. I love their new album Danger Days: The True Lives of the Fabulous Killjoys and was excited to see them live for the first time. However, they gave disappointingly little to talk about. They didn't interact much with the crowd or each other, and closed their set on the depressing note of Gerrard Way singing "Cancer" alone on stage. MCR ended their set early, without playing "Black Parade" or "Sing."
I thought it was fitting that Blink saved "Carousel" for their encore, seeing it as a fitting back-to-basics by the band I have loved for so long.
Overall, Emma and I left Saturday's show to make the long drive back to Cedar City giddy with the knowledge that Blink-182 is part of our lives again. I'm counting the days until the Neighborhoods album drops, and saving my pennies for the next show.
McKenzie Romero is the SUU News managing director. She can be reached at mromero@suunews.com.