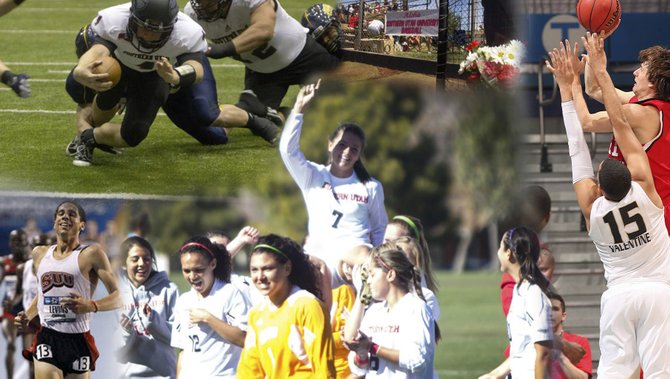 Friday, December 28, 2012
Writer's Note: With 2012 coming to a close, it's a perfect time to reflect on the many great moments throughout the year. This list was compiled of my personal favorite moments in T-Bird athletics over the the 2012 calendar year and were selected solely by me. I'm sure others had their more favorable moments.

10. "The Comeback" – SUU Men's Basketball defeats Oakland 84-82 in Summit League Tourney
SUU went into its final media timeout down 81-70 to Oakland in the opening round of the Summit League tournament and all hope seemed to be lost. Then SUU the shocking by outscoring Oakland 14-1 in the final 3:13 to upset the Golden Grizzlies. It started with a pair of Jackson Stevenett free throws, Wade Collie followed suit with a jumper. Damon Heuir hit the stunning 3-pointer to tie it with 1:09 left, then Stevenett capped the comeback with the dagger in the final moments of Roger Reid's final win as SUU's head coach and career. It also helped Oakland's star guard Reggie Hamilton had a total meltdown in the final three minutes of the game, but I didn't want that to ruin SUU's big moment. Well, then again, South Dakota State did that two days later.
9. "Click, Click, Boom!" Alyssa Click wins WAC title on bars, competes on beam in Regionals
Despite a painfully awkward moment when Alyssa Click received her award as the WAC bars champion, Click still won, so she has those bragging rights. Click killed it in that meet, but claims to yet have the cheesecake head coach Scott Bauman owes her for her performance — or so I'm led to believe. (Note: Scott might have to look out for a lawsuit). However, that meet probably was more memorable for this media road trip moment:
Anonymous Media Member A: Hey run over that Utah State gymnast!
Anonymous Media Member B: F--- Utah State!
[Car jolts toward USU gymnast]
Anonymous Media Member C: Hey guys, the windows are open…
Anonymous Media Member B: I think she heard us
Anonymous Media Member D: Ahh crap, did you see her glare?!
Anonymous Media Member C: Let's just act like Denver fans, they'll never know
All of us: HERE WE GO DENVER! HERE WE GO!
But I digress. Click went on to represent SUU at the NCAA Regionals in Salt Lake City, but didn't advance to regionals. I'm still led to believe there was some conflict involving cheesecake that led to her not reaching typical Click scores.
8. "Top Not Play" – Damon Heuir lands on SportsCenter Not Top 10
This only made it higher than SUU's amazing comeback against Oakland because seriously, since when does SUU make Sports Center? Sure it's not a top play, but if ESPN had any idea the full story of Damon's ungraceful fall into the Gatorade cooler, it'd be inducted into the sports blooper hall of fame next to such memorable moments as Billy the Marlin getting drilled by a A.J. Burnett wild pitch while riding by in a car and any botched national anthem.
Here's what happened: Damon gets the ball stripped from him, he races down the court to knock the ball out of bounds before a layup is returned on the turnover, then spills into the Gatorade cooler while his momentum carries him out of bounds. The cooler drops a gallon of ice cold refreshment over Damon, who suddenly looks to have wet himself in front of 8,000 hostile Jackrabbit fans. However, what's failed to be mentioned on Sports Center is that Damon and Jackson Stevenett, who left the game earlier with an ankle injury, were forced to trade shorts after the incident. The duo began to trade shorts in front of the 8,000 fans before being told to do so in the hallway to the locker rooms. Hilarious.
Anyway, only was the moment No. 3 on the Not Top 10, but Colin Cowherd picked it as a funnier moment later that day on Sports Nation. Awesome.
Here's the video. Fast forward it to roughly the 2:30 mark:
7. "One-Man Team" – Levins leads SUU to an 11th place finish in National Championships
Some might wonder why this is No. 7, but you'll find out quickly that Levins dominated the 2012 sports moments. SUU finished No. 11 in the country in this past year's NCAA Outdoor Track and Field Championships — which is amazing for a mid-major program and even more amazing when you consider SUU was only represented in two events.
6. "The End of An Era" – T-Bird baseball walks off for final home win in program history
The day before the T-Birds celebrated a long baseball program and bid aloha to America's pastime, SUU played one of the best games in Thunderbird Park history. The T-Birds overcame an early 5-0 deficit in the second game of a doubleheader only to lose it in the top of the seventh inning. The game went into extras when Chaisson Low, a Cedar City native, belted the walk-off single to lead SUU to its final home win in T-Bird baseball history.
5. "New League" – SUU officially joins the Big Sky
Believe it or not, this only lands at No. 5 because the next four were unbelievable enough to upstage the biggest athletic move in the SUU's history. The Big Sky move was huge for SUU, which moved into a more geographically secure conference and one filled with some great football. It may be weaker than the Summit League in other sports, but football always reigns supreme. Anyway, SUU hopes to dominate the Big Sky in the near future.
4. "The Golden Goal" – Stacey Brinkman breaks school goals record in waning moments of her final game
The only thing between Stacey Brinkman and the goals record at SUU was three home games and Stacey found a way to make the inevitable dramatic. In her final game, Stacey still hadn't broken the record when the horn blew to close out the first overtime against Cal State-Bakersfield. Then, in the second OT, Missy Lazcano was fouled and Stacey lined up for a kick outside the box when she blasted a shot over a jumping goalkeeper for the record. She literally waited for her last second as a T-Bird to get the record. The goal was amazing and I still couldn't be happier for one of the most deserving SUU athletes. Anyone at that game could tell you that moment was pretty awesome. You can relive the magic here:
3. "Dethroning #1" – SUU Football knocks off No. 1 Eastern Washington at home
This one was definitely the greatest win in T-Bird football history, but since it wasn't as awesome as my No. 2 pick, it falls to No. 3. Some may call SUU's 41-16 thrashing of UNLV last season as SUU's biggest win, but UNLV sucks at football. EWU, on the other hand, entered the matchup as No. 1 in the FCS and just a year removed from a national championship. This one went down to the wire in a Big Sky classic, capped with a game-winning field goal by Colton Cook with 3 seconds left to remind the rest of the Big Sky that SUU belonged.
2. "Triple the Pleasure" – SUU Football defeats previously unbeaten NAU in triple OT
Every sportswriter has one wish they could cover — okay many wishes of moments here or there. One of mine just happened to be at least one overtime football game. It happened in my final game as a student media member and it was a dandy of one too. SUU came out guns blazing against rival NAU for the first ever Grand Canyon Trophy, but the Lumberjacks chopped away at the T-Bird lead ever so slowly, culminating into one final regulation drive that ended in a field goal to force overtime. Brad Sorensen ran it in on SUU's first OT possession; NAU answered. Then NAU scored and Sorensen tossed a touchdown pass to Fatu Moala. Then Sorensen hit Easton Pedersen for the game-winner, while Cody Larsen ended the game on a fourth down sack. The 'Jacks were previously undefeated in the Big Sky — then didn't make the postseason. Meanwhile, SUU's players rushed the field and dog-piled on each other, before holding up the trophy. That game was one of a kind and one hell of a moment.
1. 2012 – "The Year of 'Cam'ada"
If 2012 was truly the end of the world, it's because Cam Levins destroyed it. I had to give Cam Levins his own spot because if I broke down all his moments, they would claim the entire top five and probably seven of the top 10, so to pack in more, I just had to reserve the top spot for him. Levins completed two of the most incredible accomplishments in T-Bird athletics history over the summer: winning the NCAA national titles in the 5,000 and 10,000-meter races, then becoming the first T-Bird ever to compete in the Olympics in August. Cam didn't disappoint in his final year at SUU and was recently rewarded with the Bowerman Award, the top track and field athlete in the country, on Dec. 19 — capping off his T-Bird career like he will always be remembered by, winning. Other notable performances this year include: leading the world in the 10K for a short period of time, becoming the first Canadian to qualify for the 5K Olympic finals in 100 years, being a multiple All-American winner, receiving his own celebration after winning those national titles and pretty much anything in between.
Carter Williams is the sports director at SUU News. He can be reached at cwilliams@suunews.com.