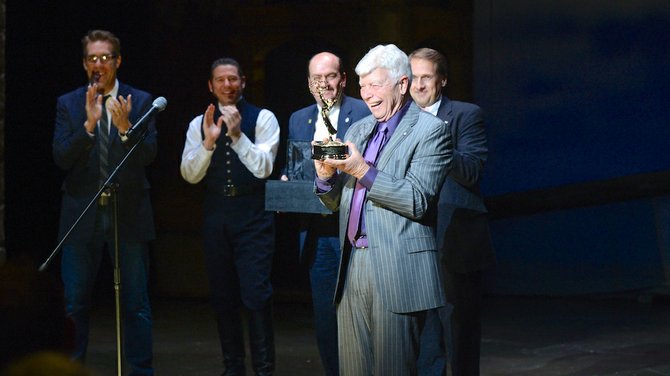 In a glass display case in the Randall L. Jones Theatre, next to a Regional Theatre Tony Award, is a Regional Emmy Award, the fruit of a partnership between the Utah Shakespeare Festival and BYU Broadcasting.
The Utah Shakespeare Festival's 2011 production of A Midsummer Night's Dream was the subject of BYUtv's broadcast, which won the best Special Event Coverage Live or Edited Emmy for the Rocky Mountain Southwest Chapter of the National Academy of Television Arts and Sciences Regional Emmy October 6.
Festival Founder Fred Adams accepted the award during the intermission of the last performance of Les Miserables and the closing of the Fall 2012 Season on October 27.
He said the broadcast was the brainchild of BYUtv CEO Derek Marquis and Sterling Van Wagenen, former manager of BYUtv's group and chair of the BYU film department. Adams said Marquis and Van Wagenen went to London and saw an opera that was broadcasted across Europe and realized BYUtv could be broadcasting the Utah Opera or the Utah Symphony because the station has their own satellite and broadcasts to 81 countries.
"They said, 'there's only one company in Utah that is doing what we consider national level work and that's the Utah Shakespeare Festival,'" Adams said. "They talked to us and said, 'What would you say if we were to send our entire team to go and film live, to live stream, one of your productions?'"
Adams said he and Executive Director R. Scott Phillips were open to the idea but warned that negotiations with acting unions would be difficult.
"If you use scenic or costume designers designs or an actor's image for any kind of profit, the price escalates," Adams explained. "There are a lot of permissions that you need."
Continued from print edition, page 6
Marquis told Adams that BYUtv had the money to pay for the show and they were interested in Adams' production A Midsummer Night's Dream because the show was family-oriented and more marketable to their station than a tragedy or a romance. After Phillips negotiated with BYUtv and the acting unions, filming started.
Adams said parts of the production team came down half a dozen times to film the whole process including casting, design sessions, beginning rehearsals with books and the final dress rehearsal to get an idea of where cameras and equipment would need to be. This footage was used to make an intermission piece called "The Making of a Dream" and another piece following actor Matt Muller, who played Lysander in the production.
BYUtv Director and Producer Steve Lowe brought an eighteen-wheel traveling studio, complete with nine cameras, more than two dozen microphones and a portable satellite uplink, to film the show for the festival's first live broadcast.
"BYU put so many resources behind the project with their hours of prep work and multiple trips down to Cedar City to watch rehearsals all in order to get the right shots at exactly the right moments," Adams said. "The finished product was amazing, and I'm thrilled the partnership worked so successfully. The award is a real credit to both organizations."
The production was live edited for the broadcast but afterward was edited and has since been broadcasted several times and in 12 different languages.
Adams said that knowing the show would be broadcasted did influence his directing in some aspects.