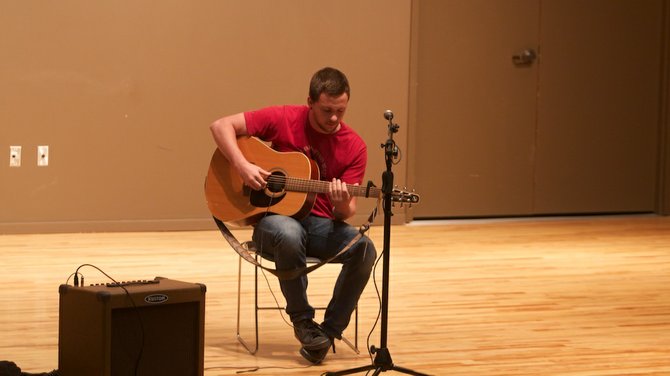 Despite the chance of cancellation due to the city-wide power outage, nearly 200 people filled the Sterling Church Auditorium on Thursday to watch 14 musicians battle for the title of Guitars Unplugged Champion.
Jantzen McKinlay, a senior biology major from Richfield, took first place with his fingerstyle acoustic piece.
"I wasn't expecting to win," said McKinlay. "It's my first year, so I just wanted to come in and play."
This year marked the 11th annual Guitars Unplugged and returning judge Tim Crestinger, an employee of Groovacious, said he thought the year was one of the best competitions he has ever seen.
"It seems like people are a little more conscious of their actual playing, instead of trying to play the most popular thing," said Crestinger.
He was especially impressed with McKinlay. "The technicality of the song is what pushed (McKinlay) into first place," Crestinger said.
Mckinlay, who made the transition from piano to guitar eight years ago, said he is self-taught on the guitar and is inspired by the more fingerstyle pieces.
Cal Rollins, Power 91's station manager, said this year was fantastic. He said he loves how, each year, the talent gets more and more impressive.
"It's the best year we've ever had," said Rollins. "From the competition, to the master of ceremonies, to even the diversity of genres of music being played."
Rollins said he thought the competitors this year were outstanding.
"I thought our winner was just incredible," said Rollins. "I think he was head and shoulders above the other competitors, as good at they were, he was just incredible."
McKinlay took home the first place prize of a $1,000 guitar package that included a brand new acoustic guitar with a stand, case and other accessories.
Steve Swift, the coordinator for this year's completion, said he was impressed with the turnout, despite the power outage that almost cancelled the event altogether.
"I feel great, it went wonderful," Swift said. "I love that everyone stayed and were polite. You could hear a pin drop in the audience when people were playing."
Competitors at this year's competition ranged from as young as 10, all the way to 62.
"The goal of the this type of event is to bring out the talent we have in the area and highlight them, something that is very important to Power 91: highlighting the local talent," said Rollins.
McKinlay will be featured on Power 91's Morning Brew today and will have one of his pieces played as a regular part of the radio programming.
McKinlay said he advises aspiring guitarist to practice.
"Just keep at it," said McKinlay. "That's the only way you're going to get it, if you practice."