1. Did the U.S. team choke?
I've covered T-Bird soccer for the past two seasons and when you watch that much soccer, you realize that sometimes the breaks don't go your way — despite all the effort and opportunity. That's just how the game goes some days.
Now the entire U.S. should understand that sometimes the better team doesn't win. Sometimes those breaks fall wide, hit posts or somehow just don't make it into the back of the net.
As T-Bird head coach Brian Stock says, "it's just the nature of the beast."
I've seen the 'Birds lose in the most unimaginable and heartbreaking ways. One time it was a shanked kick from the goalkeeper, another time it happened just moments before a draw and another time a game-tyer from SUU hit the top post and somehow didn't ricochet in. The majority of those times SUU was playing well enough to win.
On Sunday, the U.S. played much better than Japan in a sense that they had all the opportunities in the world to score in the Women's World Cup Final. Some hit the post, some sailed just wide of the net, others hit the top of the net, and one was miraculously saved by Japan's goalkeeper.
After the U.S. women lost 3-1 in penalty kicks, the question became apparent; did the U.S. women choke?
To be honest, I don't think they did. They did everything right, led twice, but sometimes that's not enough. And give Japan credit, it never gave up as a team. When everything seemed to go toward the U.S. — the Alex Morgan and Abby Wambach goals — Japan stayed in contention. They seemingly used magic to pull out the goals to tie to force extra time, then penalty kicks.
They weren't fazed by Wambach's near goal near the end of extra time or when the free kick occurred with just 10 women on the field.
It's just the nature of the beast. It's how the U.S. beat Brazil, but how they lost to Japan. There's really no explanation for it. Games can be decided by what appears to be the smallest play in the game.
2. More, Dammit!
Whatever it is, it has left a bitter taste in my mouth — and I certainly want more soccer. I've thought about tickets to professional women's soccer games so I could watch my newest sports hero Hope Solo, but that's up in air.
Luckily NCAA soccer is literally less than a month away. As T-Bird forward Stacey Brinkman said via Facebook: "After todays upset! I can NOT wait for season! We will be more then ready!"
This will be SUU's final season in Summit League soccer as it is prepared to shift to Big Sky. However, the T-Birds have the firepower and team to compete strongly this season.
Brinkman, Riley Bassett, Shelby Ostler and Missy Lazcano each have 4-goal seasons under their belts. Hell, Bassett scored five goals in one game once. Not to mention that goalkeeper Charly Booth played exceptionally well last year.
I'm anticipating calling play-by-play for all the Summit League games on Power 91 this year, and I think this could be a fun and interesting year.
3. I wish I was as cool as Charly Booth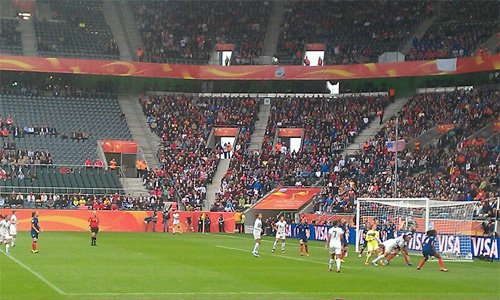 Photo via Charly Booth
I'm going to have to dig into this story further because it seriously is interesting. As far as I know, SUU goalkeeper Charly Booth wanted to go to Germany to see the U.S. soccer team really bad. So instead of complaining about it in Facebook posts, she just got up and flew to Germany.
I wish I had the ability to be that bold.
Booth attended at least the semi-final victory over France and even met fellow goalkeeper Hope Solo in the process. She sat near the pitch and probably enjoyed what was a good game.
I'll have to follow up on this story in the future, I can't wait to hear the story behind this.
4. Give women a chance
I'm not particularly a fan of women's professional sports, but I also have enjoyed my time covering women's soccer, basketball, gymnastics, volleyball and softball. It can be just as exciting as men's sports. In fact I believe gender doesn't separate the quality of entertainment, it only depends on how well teams play against each other.
I've never gone — or really watched — the WNBA, but the WWC was exciting to watch this year. It united a country for a soccer match and it seemed to make Hope Solo, Abby Wambach and Alex Morgan into household names. I found myself and those who I was with yelling at the TV — cheering goals and groaning in disbelief.
If you can find that type of entertainment in sports, stick with it. I don't think it's fair to anticipate any sport is boring until it is at least tried or watched.
However, I also don't think the WWC will change the prejudice of women's sports — but I also hope it opens a new door to allow female athletes to be recognized for their talents.